The CELL is proud to support both Cub Scouts and Scouts BSA with our dynamic, engaging clinics. Our experiential learning programs inspire leadership, service and community engagement. Scouts can earn merit badges through an array of clinics from Emergency Preparedness to Citizenship in the World.
Scouts, take your first steps toward becoming future leaders in civic engagement.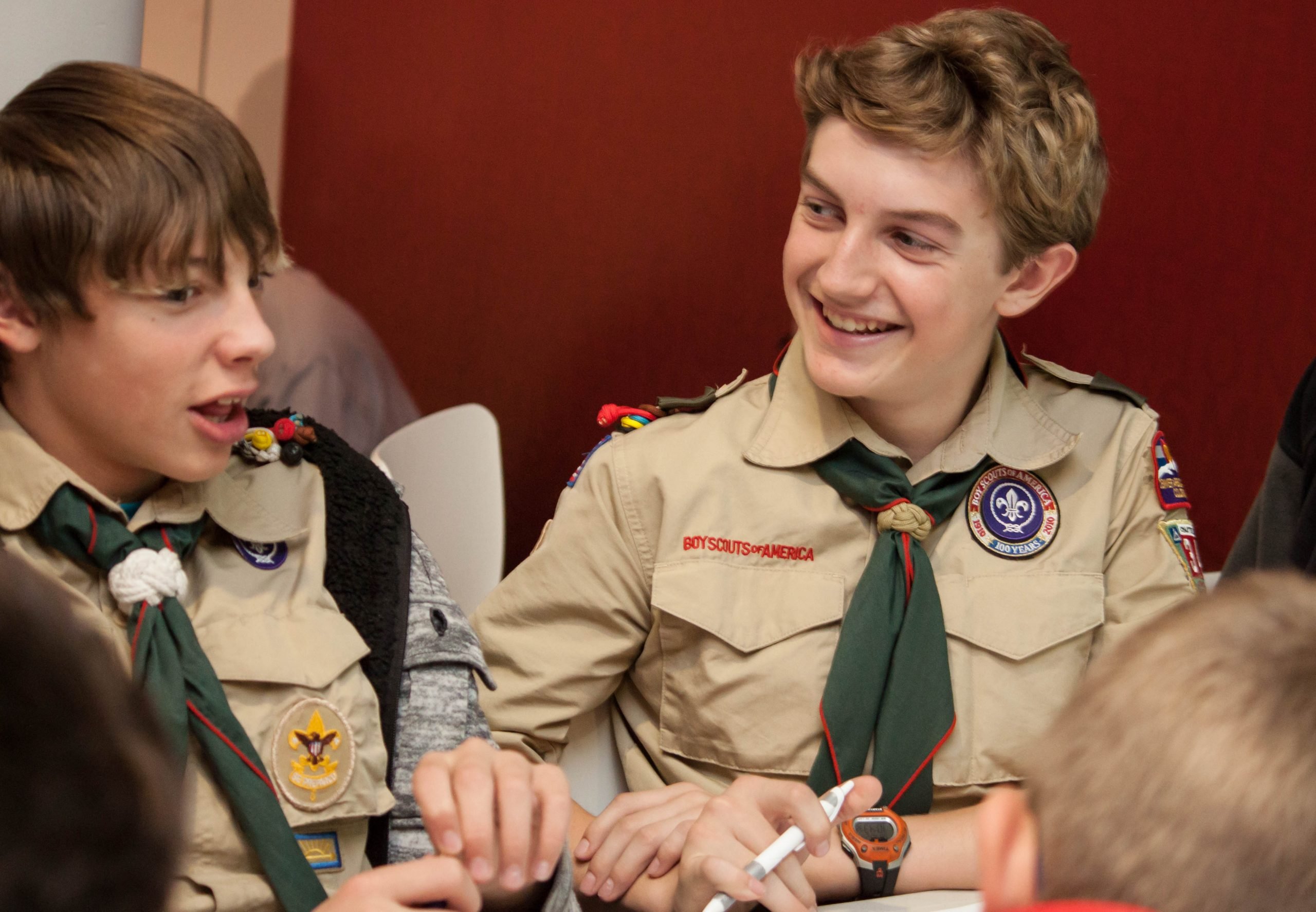 (Cub Scouts, Scouts BSA) – Colorado is a beautiful state, but it's no stranger to disasters and emergencies. If you successfully complete this training, you won't be caught off-guard even when the unexpected occurs. You'll learn the five critical steps in emergency preparedness and you'll also discover what you can do in each step, especially during the kinds of emergencies we see throughout Colorado.
Citizenship in the Nation
(Scouts BSA) – It's a big word: "citizenship." It gives us a lot of rights here in the U.S., but there's more to it than that. There's pride in being a citizen, and there's responsibility, too. So what does it mean to be an active part of our nation? How do we participate and take part as informed, aware people? You owe it to yourself, your community and our nation to find out!
Next Clinic: SOLD OUT! Click HERE to register for our October 21 & 28, 9:00 am clinics 
(Scouts BSA) – We have clear rules on how you get to be a citizen in the U.S. But what does being a responsible citizen of the world involve? That's what we dig into in this clinic. It's about laws (both national and international), and it's about what respect looks like in global terms. Sometimes we choose allies based on similar governmental systems; sometimes we choose them based on history; and sometimes we choose them based on shared values. How do we as Americans play a part in that?
Next Clinic: SOLD OUT! Click HERE to register for our October 21 & 28, 10:30 am clinics
Crime Prevention and Safety
(Scouts BSA) – Your community can be safer for everyone if you step up and do your part. That means learning what to look for all around you: you can play a key role in your neighborhood by spotting telltale signs of crime or public health dangers. And get this: completing this clinic satisfies the requirements for both the Crime Prevention and Safety badges. It's a twofer!
The CELL's clinics are currently offered virtually via Zoom. But in 2024, the CELL Exhibit in downtown Denver will reopen to the public as an all-new, totally updated experience. We will resume hosting in-exhibit merit badge clinics at that time.
Details on both formats are below.
(Returning 2024) 
Led by CELL representatives, each merit badge clinic makes the most of the CELL Exhibit space. There's nothing like talking about safety and recognizing threats when you're actually surrounded by the evidence of why it matters! We'll talk about aspects of crime prevention and public safety that affect you and your community, and we'll incorporate elements of the exhibit itself in our discussions and hands-on activities.  
We get it: an online clinic doesn't feel exactly like one at the CELL Exhibit. But it's close! And with two highly trained, YPT-certified counselors on screen and ready to engage with you on topics of crime prevention and public safety, you can feel confident knowing you picked the right merit badge clinic.
$1.50 per person per day of training
"My son attended [the] Citizenship in the World merit badge clinic. He really enjoyed it! [The] CELL did a great job engaging my son... He will definitely be attending more CELL clinics!"
"The CELL's Emergency Preparedness merit badge class provides a ton of information in a fun and interesting way. The class materials provided are easy to use and submit. The teachers are very nice and knowledgeable and present the information well. Thank you for a great program."
"Thank you to you and your team for putting on a well-organized, fun and informative virtual merit badge clinic. I really like the way you made it interactive with the polls and videos to keep their attention."
"The counseling and guidance provided by the trainers was really good and I recommend all Scouts attend one of these training sessions. The CELL's post-training guidance helped the Scouts earn their merit badges and proved the CELL trainers' efficiency as great teachers and counselors."
"Two of my kids completed the Citizenship in the Nation course. Your direction toward specific topics in history was great and created good discussion at home. I also liked how you didn't just lecture the kids. You held a discussion and made it interactive."
"I want to mention how much I appreciate the programming that you provide for the Scouts. I thought the session was well run. The CELL-customized workbook was manageable to complete. You guys made it easy for the Scouts to earn this merit badge. My Scout took this Citizenship in the Nation class as a trial, but he definitely plans to sign up for Citizenship in the World."
Frequently Asked Questions